Partnerships
The Think Mental Health education campaign would like to acknowledge the professional advice, information and guidance provided by the following organisations when developing this program, along with their ongoing support of Think Mental Health to build mental health and wellbeing and reduce mental health issues with the view to reducing Western Australia's suicide rate.  
Act-Belong-Commit 
Act-Belong-Commit is a comprehensive health promotion campaign that encourages individuals to take action to protect and promote their own mental wellbeing and encourages organisations that provide mentally healthy activities to promote participation in those activities.

The A-B-C guidelines for positive mental health provide a simple approach that we can adopt to become more mentally healthy:

Act – Do something (keep physically active, mentally, spiritually and socially active).
Belong – Do something with someone (get involved in family, club or team activities, and participate in community events).
Commit – Do something meaningful (take on challenges or causes that provide meaning and purpose).

Website: www.actbelongcommit.org.au/

beyondblue
beyondblue provides information and resources on anxiety, depression and suicide prevention, free of charge, to the Australian community.

We have an extensive catalogue of resources for people who experience anxiety and depression, their family and friends, and for professionals who work to improve people's mental health.

To access this information online, or download or order printed copies of our resources, visit www.beyondblue.org.au/resources

If you would like to speak to someone about beyondblue resources, or order them over the phone, please call the beyondblue Support Service on 1300 22 4636.

Heart Foundation Walking
Being active is one of the most important ways people can improve their health and
wellbeing.
There's a reason why walking is one of the most popular forms of activity in Australia. Walking helps to reduce stress, be more alert, have a healthier body and build strong relationships.
Heart Foundation Walking is Australia's largest free walking community and offers many types of walking groups all over Australia and the opportunity to track your steps using the Heart Foundation Walking App. The program includes everyone regardless of age, fitness level, and location.
Website: walking.heartfoundation.org.au/
 
Ireland's YouMentalHealth
The Health Service Executive (HSE) is Ireland's public health service; providing health and social care services to the 4.6million people living in Ireland, in hospitals, health facilities and communities all over the country. Little Things is the mental health and wellbeing campaign from the HSE and over 35 partner organisations, which was launched in October 2014. All aspects of the Little Things campaign are planned, managed and reported on by the HSE's Mental Health Division and Communications Division, and funded through the National Office of Suicide Prevention as part of the budget to support Connecting for Life, Irelands' strategy to reduce suicide.

Website: www.yourmentalhealth.ie/
Lifeline WA 
Lifeline WA provides people experiencing a personal crisis or thinking about suicide with access to 24 hour crisis support and suicide prevention services. Our 13 11 14 service is a nationally-routed crisis support number, available every day of the year, from any location in Australia. Additionally, Lifeline WA creates opportunities for emotional well-being through separation, bereavement and financial counselling, and education and suicide awareness training as part of their vision to create communities free of suicide. All services are available to anyone - regardless of age, gender, ethnicity, religion or sexual orientation.
Website: www.lifelinewa.org.au/

MensLine Australia
MensLine Australia is a national telephone and online counselling service for men with family and relationship concerns. They support men who are struggling to deal with issues related to their relationships with partners, children, family, friends or workmates.
The free service is available 24 hours a day, seven days a week from anywhere in Australia, and their professionally trained counsellors are experienced in men's issues.
MensLine Australia is here to help anywhere, anytime.
Call 1300 78 99 78
Website: www.mensline.org.au
Twitter: @mensline_aus
Facebook: MensLineAus

The Regional Men's Health Initiative
The Regional Men's Health Initiative is comprised of a team of people who are passionate about raising awareness of men's health and wellbeing in rural and regional communities. It is important to identify that The Regional Men's Health Initiative is not a health organisation. Rather, they act as a bridge of support and education to rural and regional men, communities and health services.
The Regional Men's Health Initiative's emphasis is on men's holistic wellbeing and health, which means dealing with the whole person and understanding problems/issues in the context of their life. They promote the requirement that it is important to know and understand the story behind our identity and what makes us an individual. They engage with men on their terms and go to where the blokes are.
The slogan before it all gets too much…Talk to a Mate!! is the basis of all their initiatives. Mate ship, empathy and the appropriate use of humour is the key to connectedness in their programs and presentations.
Website: www.regionalmenshealth.org.au/

WA Association for Mental Health (WAAMH)
The Western Australian Association for Mental Health (WAAMH) is the peak body for community mental health in Western Australia.

WAAMH's membership comprises community-managed organisations providing mental health services, programs or supports for people and families with lived experience of mental health issues and suicide, with whom WAAMH engages in genuine partnership. WAAMH also engage with a wide network of collaborative relationships at a state and national level with individuals, organisations and community members who share their values and objectives.

WAAMH influences community attitudes, mental health priorities, policy and practice through mental health promotion, systemic advocacy and development so Western Australians have the rights, resources and support needed for mental wellbeing, recovery, and citizenship.

Website: www.waamh.org.au/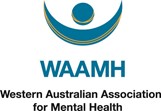 WA Primary Health Alliance (WAPHA)
WA Primary Health Alliance plans, designs and commissions community-based health services on behalf of the Australian Government. It operates WA's three Primary Health Networks(PHNs), which are Perth North, Perth South and Country WA.
They aim to improve access to the primary healthcare services for Western Australians, particularly those at risk of poor health outcomes, to keep more people well and out of hospital.
WA Primary Health Alliance works closely with the health and social sectors, government and community to develop solutions to improve the efficiency, effectiveness and coordination of healthcare.
Website: www.wapha.org.au/