Managing Uncertain Times 
No matter the hard stuff that's happening around you, there are things you can do that will help how you're feeling today; Learn to Look After You. 
There are practical, evidence-based strategies that can help us to manage our mental health during challenging times, including when we feel like the things that are happening, are out of our control. Strategies include:
Shift your thoughts and focus on the good stuff.
Treat yourself with kindness and cut yourself some slack. 
Do what brings you joy. 
Remember that things will change, and you might have to roll with plan B.
Connect with others.
Keep reading to learn how to use these strategies, to look after you. 
Thank you to our partners at THIS WAY UP for helping us to adapt this information and advice for you.
When we are faced with difficult situations that are out of our control, it's normal to feel stressed, anxious and a bit burnt out. Sometimes, we pressure ourselves to 'be strong' or 'stay positive', but it's also common to have thoughts such as, 'I shouldn't be feeling so overwhelmed by this situation', or 'it's hard to cope'.
Give yourself permission to feel what you feel, and try to label these feelings without judgement, such as fear, frustration, or sadness. These are common feelings to experience when facing change or uncertainty. If we put pressure on ourselves to push these feelings away or to feel differently, we can end up feeling worse.
Reminding ourselves that it is actually okay to feel the way we feel is an important part of coping with difficult situations. 
Here are some helpful things to tell yourself when you're feeling strong emotions: 
'It's been full on. It's okay if I don't know how to feel about all of this.'
'What I'm feeling in this moment is understandable.'
'Everyone is allowed to feel differently about this situation.'
'It doesn't matter how others would feel in my shoes, my feelings are valid.'
Another common experience when facing difficult situations is to feel out of our depth. It's okay to not always know how to immediately solve a problem or handle a solution right away. Try to be kind and understanding to yourself, in the same way you'd be kind to a friend in the same situation.
'Self-compassion is treating yourself with kindness and understanding. Self-compassion is not self-pity. It involves both acknowledging the difficulties of the situation you are facing, whilst seeing your own unique strengths and encouraging yourself.' – THIS WAY UP'
So often we are much more supportive, kind and patient with those around us than we are with ourselves. It can be helpful to ask yourself:
'What difficult circumstances have I coped with in the past?'
'What qualities (e.g. determination, creative thinking, resourcefulness) helped me cope with these challenges?'
'In what ways have I coped with this situation better than I might have expected myself to?'
So, when cutting yourself some slack, hit the 'pause' button and remind yourself of these three things:
Acknowledge your experience and how you feel.
Be kind to yourself, in the same way you would be kind to a friend.
You are human. We all have times of feeling overwhelmed and this doesn't make you weak or inadequate.
To learn more about this and other free evidence-based tools go to THIS WAY UP.1,2 
Sometimes it can be hard to stop thinking about all of the things that seem to be going wrong. While it's natural for our minds to gravitate towards issues that are out of our control, spending a lot of time dwelling about things we can't control can leave us feeling overwhelmed, hopeless, and powerless.
When thinking about our problems, we can get stuck in a negative cycle, where we think only about the problem or how bad it is. This is called 'rumination'. Rumination makes it very difficult to think of solutions and what we can do, or even the neutral or positive aspects of a situation.
Learning to actively shift our thoughts and take a more balanced perspective can help us break this unhelpful cycle. So, take time to look out for the good stuff and pay attention to the things that you appreciate, or what is going well throughout the day. This helps us to notice that some things are actually in our control and are going well.
'When we get stuck in thinking only about the problem and how bad it is - being 'problem-focused' - it makes it difficult to think of solutions and what we can do, or even the neutral or positive aspects of the situation. Instead, we can practise shifting our thinking to focus on generating solutions - being 'solution-focused.' – THIS WAY UP
Importantly, learning to shift your thoughts doesn't mean ignoring or downplaying how you're feeling. It's designed to help you feel more in control of your challenges by shifting your focus to alternative aspects of a situation, which helps in creating solutions and can help improve your mood.
For example, if you find yourself worrying about getting sick, you can shift your focus to thinking about what you can do to manage the risks and keep yourself well (e.g., 'I can practice appropriate distancing, wear a mask when required, and organise social gatherings outdoors').
Some tips for shifting your thoughts:
Notice when you begin to dwell (thinking over and over again) on the problem and/or how bad it is or might be.
Ask yourself 'Is there anything I can do about this problem right now'?
If it is a problem you can do something about now, try to start thinking through a variety of solutions (and be creative).
Imagine what you might tell a close friend if they came to you with this problem. Give yourself that same advice.
If it is a problem you can do something about, tell yourself that you will come back to thinking about this problem at a later time. You can even think of a specific date and time when you'll come back to thinking about it and make a note of it in your calendar.
If it is a problem you can't do anything about, acknowledge how that makes you feel and try to shift your thoughts onto something else entirely.
To learn more about this and other free evidence-based tools go to THIS WAY UP. 3
In challenging times it's easy to get caught up in trying to solve the problems that we face and we can gradually stop doing the things that bring us joy. Taking time to recharge by doing simple, silly, fun or relaxing activities each day can help you boost your mood and cope better with daily challenges.
Practising self-care is not selfish. In fact, without looking after ourselves, eventually it becomes very difficult to help others.
Self-care is also about meeting our core needs for emotional and physical wellbeing. This includes getting a good night's sleep, staying active, connecting meaningfully with others, and other acts of purposeful care-for-self. These types of strategies can improve mood, energy and overall ability to cope with stress.
Self-care can look different for different people, so every day, try to plan, schedule, and do: 
at least one activity that you find fun, pleasurable, relaxing or enjoyable; and 
at least one activity that gives you a sense of productivity, achievement, meaning or satisfaction. 
It doesn't matter how big or small these activities are, the important thing is that they bring you a sense of joy - even if only for a few minutes.
If you're not sure where to start, we've prepared some tips from to help get you started.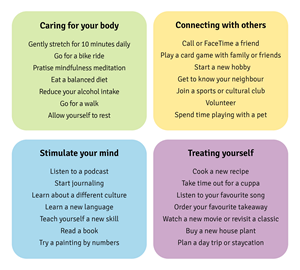 Thanks to our friends at Act Belong Commit, you can also find activities happening near you. 
To learn more about this and other free evidence-based tools go to THIS WAY UP. 4,5
Life is full of ups and downs, and often what we plan may need to change quickly when life throws us a curveball. When things change unexpectedly, learning to be flexible and being okay to roll out our plan B, C or D means we'll be less stressed when these challenges arise, and be better equipped to navigate them.
'Being flexible is about being okay with doing the best you can with what you've got, instead of continuing to set yourself high standards or aiming to do something perfectly.' – THIS WAY UP
Learning to be more adaptable means remembering that there are always a number of different actions or options available in finding the way forward. In a world of constant change, staying flexible is the key, because the truth is that there is no perfect way of dealing with what life throws at us, and everyone has their own individual strengths, so identify yours and focus on these.
Another helpful technique for managing change, is to make time to balance our thinking by consciously identifying the things around us that are in our control. Focusing our time and energy on the things that we have control over can calm feelings of panic or anxiety triggered by unpleasant or unexpected changes.
Here are some things you can remind yourself when things are changing around you: 
'I'm doing the best I can in this challenging time.'
'I may feel disappointed, but it is not forever.'
'I would've liked to do things differently, but this will do for now.'
'I trust in my ability to cope with the challenges that come up.'
For more information and advice about focusing on solutions, tackling problems and dealing with change, visit THIS WAY UP.
Most people know that taking good care of yourself includes eating nutritious foods, exercising and getting enough sleep. But did you know that social connection is just as important in maintaining our well-being? Connecting with others and investing in healthy relationships is important for both our physical and mental wellbeing.6
'Having strong social connections with friends, family and the wider community are an essential ingredient to a productive and fulfilling life.' – Act Belong Commit 
Of course, as human beings, we can all feel lonely from time to time. It is important to remember that there is a difference between social isolation, which is when we are physically separated from others; and loneliness, which is a distressing feeling that arises when there is a mismatch between the social connections you would like to have and those you feel you have. 7
One way to increase our feelings of social connectedness can be to give time and space to both strengthen and broaden our social connections.6 For example, one person may have a broad social network, socialise with lots of people, but their relationships may not feel 'close' or may lack depth. Equally, others may have one 'close' relationship with very few connections outside of that. So, when looking to improve our sense of connection, try to foster both different types of relationships. Having a mix of broad and close connections will help strengthen our sense of belonging and provide support and encouragement to carry us through during difficult times. 
Loneliness is an emotion that can be thought of as a way of showing us that that there is something unsatisfying, or missing in terms of companionship, connection or belonging. Importantly, it can drive us to take action to narrow that gap and get our social and emotional needs met.
If you are feeling lonely, Ending Loneliness Together has created a tip sheet on steps you can take to help you reconnect.
'The circumstances that can lead to loneliness for one person may be quite different for another. For example, someone might live a solitary life, feel content with that and not feel lonely, while others can have an active social life but experience these feelings of isolation within themselves.' – THIS WAY UP
In recent times, we've had to become more creative about ways to strengthen and broaden our social connections. There's no one size fits all solution, but here are some strategies that may help you:
Validate what you're feeling - it can help to talk to yourself like you would a friend. Be kind and compassionate to yourself and then try to do something to manage your feelings. For example, 'I'm feeling lonely and down today, which is really hard. What can I do right now that I might enjoy?'
Swap out watching the TV at night for playing a game with your kids, taking a walk with your partner or try out a new after-work hobby with a friend.
Get in touch with people who you trust or feel good around. Give them a call, send them a message or organise to catch-up with them.
Reconnect with people you've lost touch with, even if it's been a long time.
Do something you enjoy which will increase your chances of meeting like-minded people by joining a club, learning a new skill, staying active or spending time outdoors.
Consider organised events - it can often be difficult to meet new people organically. Have a look at activities happening near you through Act Belong Commit's Activity Finder.
Take the initiative to smile and make eye contact. While this may seem simple, inviting and friendly non-verbal communication is a helpful first step.
Remind yourself that it is actually sometimes okay to be alone – balance spending time on your own as well as trying to meet people. You might enjoy your own company more than you think.
Closeness and familiarity are built up over time. Be willing to share about yourself, invest in getting to know others and growing friendships.
To learn more about this and other free evidence-based tools go to THIS WAY UP. 8
As COVID-19 becomes a part of our everyday life, it's normal to be concerned about the health and safety of yourself, your friends and your family during these uncertain times.
While some anxiety is normal, and even helpful (as it reminds us to take care and take precautions), it can be unhelpful if these emotions become overwhelming. In addition to the other strategies mentioned above, focusing on health-specific actions that are within our control can help us to navigate difficult situations and gain a sense of control:
Put in place physical safety measures. This includes hand washing, physical distancing, staying home when unwell and mask wearing when required. These are messages that we've all heard before and are simple things we can do to feel more in control.
Stay informed from credible sources. Keep an eye on what you watch, read, and follow. It's worrying to read statistics of infections, deaths, and outbreaks near you and it's tiring to be bombarded with people's arguments and opinions on social media. Seek good quality information from credible and reliable sources, such as official Western Australian advice.
Balance your media intake. Try to strike a healthy balance where you consume enough so you can keep up-to-date, follow health advice, and modify your plans if needed, but not so much that you feel completely drained and overwhelmed every time you turn on the TV or pick up your phone. Too much negative news can increase our feelings of stress and anxiety. Put a limit on the amount of news you consume, and mute/unfollow accounts that are unhelpful.
Look after your health. Focus on eating a healthy balanced diet, sleeping well, exercising, limiting your alcohol intake and staying socially connected.
Seek support. It's normal to feel anxious, but if your anxiety is overwhelming or getting in the way of normal tasks, it's important to seek help. Speak to your GP if you're unsure of where to start or find what works for you on the mental health support services page.
If you are in isolation, it is important to look after yourself. Head to THIS WAY UP for a free self-isolation program to keep you on track.
For more tips on coping with anxiety and worry, visit THIS WAY UP for tips on getting through the COVID-19 marathon or helpful ways to manage anxiety around contracting COVID-19. 
If you need someone to talk to, there is help available 24/7. 
Beyondblue provides telephone and online chat support service for people, family or friends who are affected or are experiencing mental health issues. The beyondblue telephone (1300 224 636) and online chat (beyondblue.org.au) support service can provide you with information and advice, including information about how to seek further help.
Lifeline WA provides all Western Australians experiencing a personal crisis or thinking about suicide with access to 24-hour crisis support. They can be contacted 24/7 by phoning 13 11 14 or visiting their website wa.lifeline.org.au.
Kids Helpline helps kids and young people (aged 5-25 years old) feel better, live happier and overcome challenges. They can be contacted 24/7 by phoning 1800 55 1800 or by visiting their website kidshelpline.com.au.
For a list of additional support services and helplines, click here.
The 'Learn to Look After You' campaign and this supporting web content has been developed by Think Mental Health in partnership with THIS WAY UP. For more information about the 'Learn to Look After You' campaign, visit the campaign page.
THIS WAY UP is a not-for-profit, joint initiative of St Vincent's Hospital Sydney and the University of New South Wales. THIS WAY UP is supported by funding from the Australian Government Department of Health as part of the National Leadership in Mental Health program. Learn more at thiswayup.org.au.
https://thiswayup.org.au/wp-content/uploads/2021/02/THIS-WAY-UP_Focusing-on-Solutions.pdf

https://thiswayup.org.au/wp-content/uploads/2021/08/Calming-Your-Emotions-1.pdf

https://thiswayup.org.au/wp-content/uploads/2021/02/THIS-WAY-UP_Focusing-on-Solutions.pdf

https://thiswayup.org.au/wp-content/uploads/2021/02/THIS-WAY-UP_Tips-for-Getting-Through-the-COVID-19-Marathon.pdf

https://thiswayup.org.au/the-importance-of-self-care-during-a-pandemic/

Waldinger, R. J., & Schulz, M. S. (2010). What's love got to do with it? Social functioning, perceived health, and daily happiness in married octogenarians. Psychology and aging, 25(2), 422–431. https://doi.org/10.1037/a0019087; 

Valtorta NK, Kanaan M, Gilbody S, Ronzi S, Hanratty B. Loneliness and social isolation as risk factors for coronary heart disease and stroke: systematic review and meta-analysis of longitudinal observational studies. Heart. 2016;102(13):1009-16.;

Holt-Lunstad J, Smith TB, Baker M, Harris T, Stephenson D. Loneliness and social isolation as risk factors for mortality: a meta-analytic review. Perspect Psychol Sci. 2015;10(2):227-37;

Cacioppo JT, Hawkley LC, Crawford LE, Ernst JM, Burleson MH, Kowalewski RB, et al. Loneliness and health: potential mechanisms. Psychosom Med. 2002;64(3):407-17.;

Waldinger, RJ. Harvard Study of Adult Development;

Aked J et al (2008) Five Ways to Wellbeing: A Report Presented to the Foresight Project on Communicating the Evidene Base for Improving People's Well-being. New Economics Foundation.;

https://thiswayup.org.au/feeling-lonely-youre-not-alone/;

Aked J et al (2008) Five Ways to Wellbeing: A Report Presented to the Foresight Project on Communicating the Evidene Base for Improving People's Well-being. New Economics Foundation

Valtorta NK, Kanaan M, Gilbody S, Ronzi S, Hanratty B. Loneliness and social isolation as risk factors for coronary heart disease and stroke: systematic review and meta-analysis of longitudinal observational studies. Heart. 2016;102(13):1009-16.

https://thiswayup.org.au/feeling-lonely-youre-not-alone/